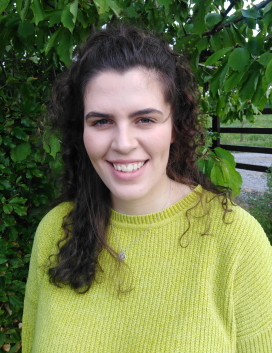 Support Naomi Tunstead
Naomi is doing Relay in Cork.
Relay is a ten-month programme run by UCCF, a charity which aims to give every student in Great Britain an opportunity to hear and respond to the good news about Jesus Christ.
Relay Workers equip, resource and encourage student Christian Unions whilst being discipled and trained by a member of UCCF staff.
Naomi says...
I will be starting Relay in September 2020 at University College Cork (UCC). I can't wait to move down to Cork and meet the students there. I love meeting new people and challenging myself to navigate around a new city/ social group. Really excited to see what God is going to do in this year and how I can be used by him in the UCC Christian Union.
Christian Unions are missional communities, led by students, involving people from loads of different church backgrounds, bringing them together to live and speak for Jesus at the centre of campus life. They are supported by Staff Workers and Relay Workers, and from September I will be one of the latter!
Relay is a mission and discipleship training scheme for graduates run by CUI and UCCF. Its focus is on developing Christ like character through an understanding of God's grace, serving alongside the CUs as they seek to take the gospel to the universities of Ireland, and receiving training that will help me keep living and speaking for Jesus for the rest of my life.
I am responsible for finding a team of supporters who will pray and support me financially so that I can take part in Relay this year.
I think my living and ministry costs should be about 10,000 euro for the year. This is the equivalent of 20 people giving me 10 euro each month, plus 15 people giving me 20 euro per month and 10 people giving me 30 euro per month. Would you be willing to help in this way?
As I'll be doing Relay in the Republic of Ireland, should you wish to give towards my year, please get in touch with me directly.
I am also very aware that I really need God's help to make the most of all the opportunities for growth this year, and in the awesome ministry of sharing the Gospel with students. I would love it therefore if you would consider becoming part of a team of people who will pray for me and the students throughout my year on Relay.
Can you support Naomi?
It costs on average £7,000–10,000 to cover the living and ministry expenses of a Relay Worker.
Having a team of people who partner financially and in prayer with Relay Workers means that they can:
Encourage CU students in their faith in the Lord Jesus.
Give biblically-grounded answers to students exploring Christianity.
Support CUs as they seek to give every student the opportunity to hear and respond to the gospel.