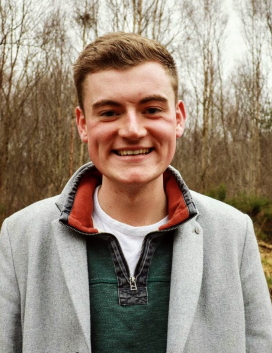 Support Rohan Hepburn
Rohan is doing Relay in Edinburgh, supporting the Christian Union in the University of Edinburgh.
Relay is a ten-month programme run by UCCF, a charity which aims to give every student in Great Britain an opportunity to hear and respond to the good news about Jesus Christ.
Relay Workers equip, resource and encourage student Christian Unions whilst being discipled and trained by a member of UCCF staff.
Rohan says...
My name is Rohan and I am going to be doing Relay with Edinburgh University CU!
I am super excited to be volunteering with UCCF for the next year. A big reason I applied was because of the impact Relay workers had on my time at university. People at university, especially Relay workers, pointed me to Christ throughout my four years and it had a huge positive impact on my walk with Christ. Now I want to spur others just as I have been. I am really looking forward to coming alongside Edinburgh CU, encouraging and equipping them to share the gospel with their friends just as others have done with me!
It would be a genuine joy for you to partner with me in this ministry. Covid-19 has made me much more aware of God's sovereignty and power; without Him nothing can happen. So in that regard I would love for you to partner in this work by praying for me in committing the next year to God and that His will would be done.
I would also love it if you would partner with me in giving. My living and ministry costs should be about £10,000 for the year. This is the equivalent of 30 people giving me £10 each month, plus 15 giving me £20 per month and 10 people giving me £30 per month and two people giving £50 a month. I have already been blessed in seeing people give generously and I would love if you would want to partner to do the same. Between summer work and people supporting me, Lord willing, this will be achievable!!
Can you support Rohan?
It costs on average £7,000–10,000 to cover the living and ministry expenses of a Relay Worker.
Having a team of people who partner financially and in prayer with Relay Workers means that they can:
Encourage CU students in their faith in the Lord Jesus.
Give biblically-grounded answers to students exploring Christianity.
Support CUs as they seek to give every student the opportunity to hear and respond to the gospel.