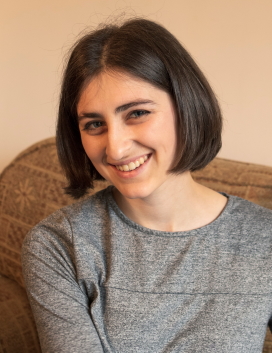 Support Susie Dobson
Susie is doing Relay in Cambridge, supporting the Christian Union in the University of Cambridge.
Relay is a ten-month programme run by UCCF, a charity which aims to give every student in Great Britain an opportunity to hear and respond to the good news about Jesus Christ.
Relay Workers equip, resource and encourage student Christian Unions whilst being discipled and trained by a member of UCCF staff.
Susie says...
I'm starting Relay in Cambridge in September, and I'm really excited to stay in this wonderful city to learn and to get alongside the members of the Christian Union as they share the gospel with the university. I'm particularly looking forward to the opportunities to be really creative in evangelism and encourage students in their gifts.
This year I will be relying on God's provision for somewhere to live and for all my living costs which is awesome, but also slightly terrifying! I would love prayer for trust in God's faithfulness to provide for and bless us, and for humility to learn from the staff workers, other relays and students as we work to point one another and the university to Jesus.
If you would like to support me financially throughout the year, that would also be a fantastic answer to the above prayer request! Helping to finance the year of Relay is an investment into the lives of students who don't yet know Jesus, so this is also a really exciting chance to sow seeds that will grow in me but also in those I interact with in the university and the city. I would also really value your prayers for the coming year and below is an opportunity to sign-up to recieve my prayer letters and hear about all that God is doing. 
Can you support Susie?
It costs on average £7,000–10,000 to cover the living and ministry expenses of a Relay Worker.
Having a team of people who partner financially and in prayer with Relay Workers means that they can:
Encourage CU students in their faith in the Lord Jesus.
Give biblically-grounded answers to students exploring Christianity.
Support CUs as they seek to give every student the opportunity to hear and respond to the gospel.