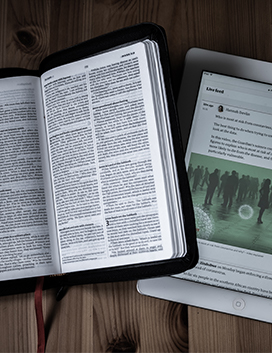 CU mission and Covid-19
It is now nearly two weeks since most of the universities closed their doors in response to the Covid-19 pandemic. The CUs have risen to the occasion and have quickly adapted to running CU mission online.
Courageous witness
It has become the norm to see CUs conducting their usual weekly gatherings and prayer meetings online via video conference, encouraging one another with the truth of the gospel. Alongside this, they've continued to run evangelistic activities through virtual Grill-a-Christian panels and even lunchbars!
UCCF staff have been busy in these weeks continuing their one-to-one discipleship with student leaders, leading Bible studies and helping CU committees to plan for the next academic year. It is amazing what can be done online, but it is a poor substitute to being a gathered Christian Union meeting at the heart of the campus.
Staff Furlough Leave
In line with others in the charity sector and with the need to take measures to adapt to these new circumstances, UCCF is granting all field staff and many office staff an eight-week period of furlough leave (on full pay), during April and May. With the universities closed, even for exams, our students are only too aware of the significance of their next few assignments in terms of their grading. So, after a break for Easter, they will work hard at getting in these assignments. In this quieter two-month period, limited student-led virtual CUs will continue and they will access the resources staff worked hard to made available to equip them during this brief Furlough.
Given the closure of our universities and the diminished opportunity for work at this time, plus the likely drop of income and the resulting threat of redundancies, UCCF head office will apply for government support (for part of staff members' full salary and costs) from the Coronavirus Job Retention Scheme (CJRS) for these eight weeks of Furlough. There is no guarantee that we will qualify, but please do pray for our application to the scheme. Any assistance will help to cushion some of the financial shocks that seem inevitable in the coming months.
Looking ahead
We are so grateful to the Lord that the universities remained open long enough for our staff to follow up with interested students from events week and also to run full Regional Forums for the newly-appointed CU leaders. We also give thanks for the 50,000 or so students who attended CU mission week events in February and March.
Please do pray that our staff make the most of these eight weeks of rest, in advance of our anticipated busy months of CU planning (particularly for freshers' weeks), CU leadership training and preparation for Forum. Our prayer is that their Furlough leave will provide precious time to pray, reflect, study and be able to go back to their students deeply refreshed and energised for all the challenges and opportunities that lie ahead.
The UCCF office team has dispersed around the country to isolate with family and loved ones. Our office building in Oxford is closed, but we very much remain open for business! In these difficult and uncertain times, please know that we are also praying for you, our partners and supporters, who are such a vital part of the UCCF family and without whom the ministry would flounder.
If you would like to speak to a specific member of office staff, you can find our contact details here. For any general enquiries please email info@uccf.org.uk. We would love to hear from you!
FAQs
During these unprecedented times, you may have questions about UCCF's ministry. We've tried to answer some of the most frequently asked questions below. If you have any questions we haven't addressed here, please do get in touch at info@uccf.org.uk.
---
What are CUs doing right now?
While campuses may not be in operation, God's mission among students is. And the CUs are continuing to find ways of joining in. Thanks to technology, social media, and creative thinking, they are still boldly and creatively finding ways to make disciples of Christ in the student world.
Stay up to date
To see what CUs are up to day by day, follow UCCF on Twitter and Instagram (@uccf), and Facebook (@uccf.thechristianunions).
Read more
Read more about what CU mission looks like online
---
Supporting our work
We are so grateful for all those who partner with the UCCF family and enable this ministry to continue through prayer and financial support, particularly in these challenging times.
Giving
Your financial support will enable us to continue our work of supporting, resourcing and equipping CUs to proclaim the good news of Jesus to their fellow students.
Any support we do receive from the government for the eight weeks of staff Furlough will be a fraction of our overall staffing costs. We therefore continue to rely on the generous support of individuals and churches to enable this work to continue.
If you are already financially supporting this work – please accept our sincere thanks.
If you would like to begin giving financially – either through regular giving or a one-off gift – you can easily do so on our website. We are also still able to receive cheques in the post, if you would prefer to give in this way.
Prayer
UCCF is a fellowship of staff, students and supporters and we are praying that we all know the assurance and security of belonging to Jesus in this time of crisis. This season of fear and anxiety is causing many students to ask significant questions about life and faith. Our prayer is that many would come to know the Lord in the weeks ahead as CUs hold out the hope of the gospel.
We would love you to join us in that prayer. You can view daily prayer points on the UCCF website.
---
Contacting our office
We continue to have all essential functions operating throughout this period. If you need to contact the office, please email info@uccf.org.uk in the first instance. We will get back to you as soon as we can, although our response time may be a little slower than usual – thank you in advance for your patience.
---
Contacting field staff
All our field staff are currently on Furlough leave. They are unable to work for UCCF during this time and will not reply to any work-related matters until June at the earliest. If you have any urgent questions relating to field staff, please email info@uccf.org.uk.
Please do pray that our staff make the most of these few weeks of rest, in advance of our anticipated busy months of CU planning (particularly for freshers' weeks), CU leadership training and preparation for Forum. Our prayer is that their Furlough leave will provide precious time to pray, reflect, study and be able to go back to their students deeply refreshed and energised for all the challenges and opportunities that lie ahead.
---
What about Relay Workers?
We're delighted that Relay Workers will continue on the Relay Programme as normal. Reflecting the usual pattern of the academic year, they will take time off in April during the university holidays to rest before returning in May to continue their work alongside CUs. The Study Programme is an important component of Relay that they will particularly focus on in the coming weeks, as well as their day-to-day work of discipling students and participating in virtual CU gatherings.
Next year's Relay Workers
We're looking forward to welcoming nearly 60 individuals to the Relay Programme for the 2020/21 academic year! We're making preparations for their start at the end of August, whatever that may look like, and are eagerly anticipating all they will do as part of the Programme.
Hear from a Relay Worker
The spring term was jam-packed full of mission weeks. You can read one Relay Worker's reflections on this year's events.
---
Word Alive
As you may already know, Word Alive 2020 was sadly cancelled due to government restrictions. However, a condensed virtual Word Alive programme will take place from 6-9 April which is free for all, not just those who booked.
It will consist of Bible readings in Romans by David Cook in the mornings and Evening Celebrations on The Lord's Prayer. There will be some extra items in the day including "Families Together" and a single morning track.
To find out more, head to the Word Alive website: wordaliveevent.org
---
Forum 2020
Involved in CU leadership? Book for Forum 2020 now!
We're looking forward to holding Forum from 24-28 August and continuing to plan for this.
Forum is an invaluable opportunity to join together with CU leaders from across Great Britain, to receive Bible teaching and practical training in running your CU, share ideas and plan for the year ahead. Don't miss it!
Please note: If the event doesn't take place, you will receive a full refund.
---
New students
We're looking forward to welcoming new students in the autumn, whatever uni may look like!
If you're planning to head to uni, why not link up with your Christian Union? Starting a new degree may feel more daunting than ever – but while you're still at home, why not take this time to connect with your CU?
As a friendly face, they can help you find a local church, tell you what's going on and help you to live and speak for Jesus as you prepare to start your uni adventure.
You can link up with your CU through our website.
---
Keeping our office safe
As lockdown is lifted, we recognise the need to ensure that our office, Blue Boar House, remains environment for staff and visitors. We have assessed the risks present and developed a safe working policy.