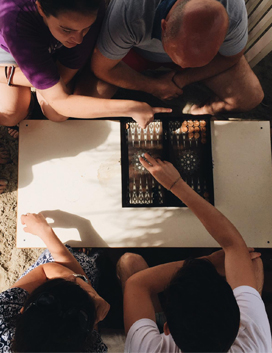 Off-site Accommodation for CU Students
Off-site accommodation can be a great alternative for CU students at Word Alive!
Off-site CU students can access the site at all hours, so you can come and go as you choose, including attending After Hours events or grabbing an early morning coffee. We also hope to have some parking available for off-site guests.
There are spaces on site at Word Alive to chill out and relax during the day in-between the programmed events, alongside quiet revision areas if you need to grab a few hours study.
As a special bonus, off-site CU students can receive a free tea or coffee from the Word Alive café each day!
What do we do next?
Firstly, talk to you CU Staff Worker to let them know you aim to book off-site accommodation.
If you are a CU student group staying off-site, you need to book two things:
1) Off-site accommodation: somewhere to sleep each night (see below list of ideas to get your started)
2) Event Pass: a pass to access all of the Word Alive site and programme of events (see below for further details) available from the Word Alive website from 28th August.
How to book Accommodation
You will need to book and arrange your own off-site accommodation. There are lots of different options and variables when booking off-site accommodation, and it will be helpful to chat through a couple of key questions with your CU friends and Staff Worker as you think about what is right for you:
Word Alive takes place at Pontins Prestatyn Sands Holiday Park, Central Beach, Barkby Avenue, Prestatyn LL19 7LA.
Listed below are some different options for off-site accommodation. Please note these are ideas to get you started and not a personal endorsement from Word Alive or UCCF:
Please note that most private caravan parks don't allow single sex bookings to prevent stag and hen parties, so you may wish to contact the owners to see if there is any lee-way. Here is some suggested wording: "We are a single sex group wishing to book this caravan. We are attending a local Christian conference that takes place locally each year. The event is 'Word Alive' and can you can see details of the event here: https://wordaliveevent.org/. Due to our Christian values we do wish to book a single sex caravan, and we wonder if you could make an exception in our circumstance for our booking. If you have any further questions please do get in touch."
You can search for accommodation options via the below Welsh tourism search engines:
Self-catering holiday cottages and other lettings are available here:
How to book an Event Pass
If you are staying off-site, you need to book an event pass to access the event. Normally the event pass costs £160, however CU students can purchase these for half price - £80 - bargain!
Event passes will be available to purchase via the Word Alive website from 28 August. They will be available for you to collect at the event.
Catering Off-Site
Thinking through your catering is important and your CU Staff Worker can help you decide the best option. One choice might be returning to your accommodation for your lunch and/or evening meal. Or you might like to bring a packed lunch and group picnic each day – perhaps enjoying it on the beach! There may also be friends on-site who could host you for meals.
There will be food vans and a fish and chip shop available where you can buy food on site at Word Alive. It may also be possible to purchase some meals onsite from the Pontins canteen.
If you have any further questions about booking off-site accommodation, please ask your CU Staff Worker in the first instance or contact info@uccf.org.uk or mail@wordaliveevent.org.