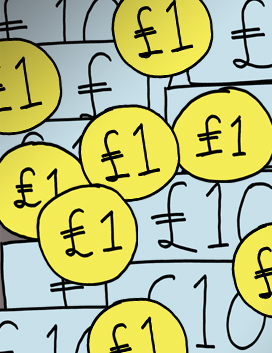 Giving to UCCF
UCCF is a Fellowship of students, staff and supporters. Our work of UCCF is funded entirely by donations from our supporters, whether that's individuals, churches or trusts.
We are incredibly grateful to all those who choose to support our work financially, however much they are able to give. Without your gifts, we would not be able to fund our vision of giving every student in Britain an opportunity to hear about Jesus.
There are several ways you can give, and different areas of our ministry that you can choose to support. Please follow the links below to find out more.
Partnership
We believe that our supporters don't just fund our ministry, but are partners with us as we make Christ known on campus. Therefore, we would love it if you would also pray for our work by receiving one of our publications. You can sign up to receive any of our resources here.
Professionalism in fundraising
As an organisation registered with the Fundraising Regulator UCCF is committed to best practice and upholding the Fundraising Promise of legal, open, honest and respectful fundraising. We hope you enjoy hearing about ways you can support UCCF's work with the CUs, however if you have a complaint about our fundraising please contact us and we will send you our Fundraising Complaints Procedure which outlines how to make a fundraising complaint.
Gift Aid
For information on how you can make your gift go further through Gift Aid please click here.
For every £1 you give, we spend 5p on fundraising and communications*
*based on 2016-17 figures
Changing your gift
If you currently have a Standing Order to UCCF which you would like to adjust you will need to be in touch with your bank to make the change. Please also let us know of the change.
If you have a Direct Debit which you would like to adjust then please get in touch and we will confirm and make the change for you.
Thank you for your ongoing support.
Where to give
There are several different areas of our ministry that you can choose to support. Please follow the links below to find out more.
General Ministry
Making regular donations to our general ministry is the most effective way of ensuring the long-term sustainability of our work with students. We can use these gifts when planning for our future work.
Particular area
Supporting our work in a particular region enables us to employ Staff Workers in that area. Receiving news and updates is a great way of seeing how your regular donation can be making a difference.
Staff members
Our regional Staff Workers and Team Leaders raise as much as they can towards their costs of employment. Giving regularly to someone you know is the best way to ensure their ministry is sustainable.
Relay Workers
Relay is UCCF's ten-month discipleship and training programme for graduates who love working with CUs.