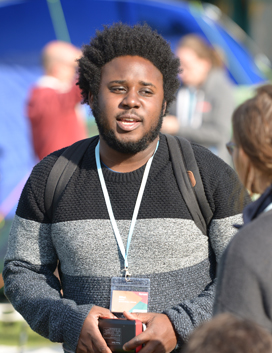 CU Staff Workers
Ministering to students face-to-face, Christian Union Staff Workers (CUSWs) have unique opportunities for advancing the gospel in Britain, working alongside CUs to make them as effective as they can be in their mission to the university.
Day-to-day CUSWs train and mentor leaders in evangelism, work alongside CU members in reaching their friends, and help students to understand the Bible in order to live as disciples of Christ in what can be a challenging environment.
What kind of person are we looking for to be part of such a unique mission?
People who have a heart to see students come to faith in Christ and a passion to help students live and speak for Jesus. The strengths each CUSW brings to the role can vary, but at the heart of the work are skills to help students think and live biblically, and the ability to disciple, motivate and influence students to share the gospel. You will also need to be a graduate, and therefore familiar with the culture of University life in order to reach non-Christian students, and be willing to raise some financial support towards your salary costs.
To equip CUSWs for this strategic ministry, staff follow a first-rate four-year training curriculum in theology, biblical studies, mission, apologetics, church history and ministry skills, which both enables staff in their ministry day-to-day and prepares them for future ministry, whether cross-cultural mission, church ministry or serving in the workplace. They are also supported and cared for by a Team Leader, and equipped through their regional team, meeting regularly with them for study, prayer and fellowship.
By the end of their time on staff with UCCF, CUSWs will have spoken to numerous non-Christian students about the gospel; have undertaken cross-cultural evangelism by engaging with students of different faiths or international students; trained Christian students to study the Bible; mentored young leaders; taken students on overseas mission; been trained and equipped in ministry skills to a high level; have grown in their love of Jesus Christ; have made life-long friendships; and have been inspired by the way God is working in the students in this country.
Thinking about applying?
Applications are currently closed. For more information you can contact Susie Green, Head of Human Resources.
Once applications are open, you can request an application pack by coming back to this page and completing our online form.